I'm 7 or 8 y.o and when I'm going back home I know I'm going to get a beating from my dad.
Something to remember.
So, the countdown is launched. It's an afternoon at school. Sitting among other children in the darkness of a classroom, there is this large white canvas in front of me, where the slides of a winter sports trip are projected. I look at these images with envy, because I hadn't been part of that trip, and with an intense feeling of urgency : I don't want this projection to end. Every time the projector makes its distinctive "TCHAC!" sound, from one slide to another, I turn around and pray that it won't be the last. I feel like my heart has expanded to my stomach. I am clinging to my chair. Soon it will be over and I will have to go home and I don't want to.
This dark room where smiles float in snowy landscapes, is a refuge.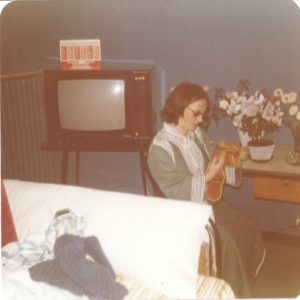 I could swear today that I felt a point of fusion between images and existence, imprinted at a body and senses level. Something happened, like a temporary, almost magical conjuration. The fear of my father was there, devouring, but as long as these images were passing by, I was safe and sound.
And then came the last, fateful slide, that felt like a stone falling down a cliff and then the clamor, the squeaking and falling chairs, all this sound both so sudden and so mast, when 30 seconds before everything seemed concentrated and quiet, engulfed into this big white frame.
I was stunned.
I slowly headed home. I had to, knowing full well that my dad wouldn't disappoint, but all the angst had taken a new twist. Something new had stayed with me.
These strange spectral things I had clung onto weren't mere reproduction of reality. I could create shelters in them by the power of my emotions.